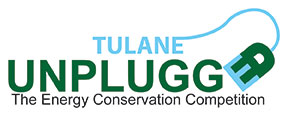 Tulane Unplugged 2016


Tulane Unplugged is a friendly competition between residence halls to see who can conserve the most energy. Student volunteers serve as "Energy Advocates," encouraging their fellow residents to reduce their energy use and climate impact.

The two-week competition runs Monday, October 31 to Sunday, November 13. The winner will be the residence hall with the highest electricity savings. (Due to infrastructure differences, Aron will not be able to compete.)

Volunteering as an Energy Advocate is a great way to learn about sustainability, test out your ideas, and meet other students and staff working on sustainability at Tulane. You can visit Tulane's Building Dashboard and monitor your dorm's energy use and competition standings in real time.

---