About Tulane Recycling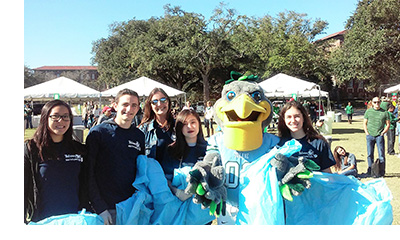 Tulane's recycling program is operated though a close collaboration between the Office of Sustainability and Facilities Services, both part of Facilities Management and Campus Development.
The Office of Sustainability is the central point of contact for recycling at Tulane. Our recycling staff handle the collection of recyclable materials on the uptown campus, and we do outreach and planning for recycling university-wide. Our student interns answer questions about recycling, lead recycling promotions and special events, and research and help develop new programs.
Facilities Services staff are an essential part of the recycling program at Tulane. Custodians and grounds staff do most of the collection of recyclables from bins in and around campus buildings. Support services assists handles recycling of electronics downtown and recycling from large moves.
Avid recyclers and friends of recycling from across the university help throughout the year. Follow us on
Facebook
and
Twitter
for pictures and updates.
For more information please contact:
Office of Sustainability
107-A Richardson Building
Tulane Univerisity
New Orleans, Louisiana 70118
504/865-5145 (phone)
recycle@tulane.edu